Christmas Bird Count 2014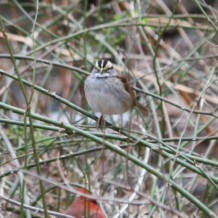 In December, we participated in our fourth Christmas Bird Count (CBC) in Glen Providence Park! While it was completely overcast with gray light, it was refreshing and peaceful in the woods on a cold Saturday morning. We were delighted to see an adorable Brown Creeper again this year, and a group of White-throated Sparrows hiding in the brush. Our final count totaled 154 birds of just 15 species.  It turns out it was a quiet day for all locations within the 15-mile radius Glenolden CBC circle, which may have been due to the weather. While it was our fourth year, it was the 115th year for the CBC – the world's longest-running Citizen Science survey!
It was too overcast for good bird photos – but you can see photos of many of these species in our Wildlife Album on Facebook.
Here is our official Christmas Bird Count list for Saturday, December 20, 2014:
Canada Goose – 113
Mallard – 2
Mourning Dove – 2
Red-bellied Woodpecker – 2
Downy Woodpecker – 3
Northern Flicker – 1
Blue Jay – 3
American Crow – 7
Carolina Chickadee – 2
Tufted Titmouse – 8
White-breasted Nuthatch – 2
Brown Creeper – 1
Song Sparrow – 1
White-throated Sparrow – 3
Northern Cardinal – 4
You can compare it to the lists from our 2011, 2012, and 2013 Christmas Bird Counts!