1-25-2015 Winter Bird Walk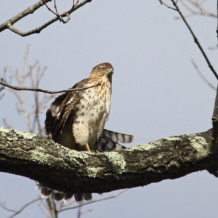 We will kick off our 2015 events in Glen Providence Park with a winter bird walk! It seems like a fitting way to start the 80th anniversary year of this park, which was donated as a Bird Sanctuary and Arboretum in 1935 by George and Eleanor Butler. This bird walk will be led by Al Guarente of the Birding Club of Delaware County – it will be the 5th bird walk that Al has led for us!

Winter Bird Walk
Sunday, January 25
9:00-11:00am
Snow or shine
* Park entrance at 3rd Street & Kirk Lane in Upper Providence *
Logistics:
* Please note the location- we are starting at the Upper Providence entrance at Third Street and Kirk Lane. *
Estimated distance: 1-1.5 miles
Estimated time: 2 hours
Snow or shine
Free!
Be prepared for steep hills, and uneven (possibly wet) terrain: wear your hiking shoes, and bring a hiking pole if you use one… and of course binoculars!
Photo is of a juvenile Cooper's Hawk in Glen Providence Park.