Scouts in Glen Providence Park!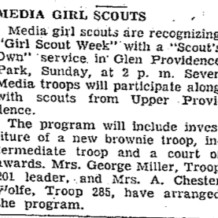 Since Glen Providence Park was established as a bird sanctuary and arboretum in 1935, Girl and Boy Scouts have been a part of its narrative! The day after work began on the park, a November 1, 1935 article in the Chester Times invited the reader to "Come with your bird glasses, your flower guides, your tree books. Bring the school children and scout groups, and let Nature teach them her ancient lessons." The Scouts heeded that call, with accounts of Girl and Boy Scouts from across Delaware County visiting the park since the 1930's.
Articles through the 1930's, 40's, 50's, and 60's recount how Girl Scouts, Boy Scouts, Brownies, and Cub Scouts held picnics, cookouts, meetings, and ceremonies in the park, including new troop investitures and "a court of awards." In September 1939, a Rutledge Cub pack had a meeting where "An interesting nature program was presented, which included a spirited contest on trees"(!). That October, a Lansdowne Girl Scout troop took a field trip to the "Bird Sanctuary." 
Volunteerism
In addition to the many meetings and activities, the Scouts have a record of volunteerism in Glen Providence Park. In 1970, a dozen Upper Providence Boy Scouts conducted a major cleanup behind what was then Skelly contracting and Media Laundry, above the Mountain Laurel Trail – they "piled up enough trash for several truckloads in the park below the guardhouse." In 1971, as part of a Boy Scout "Conservation Good Turn" program, Minquas District Boy Scouts cleaned up "creeks, streams, and roadways," in parks including Glen Providence. "The Anti-Litter Day campaign" had the administrative support of the newly formed Chester-Ridley-Crum Watersheds Association. This was a predecessor of CRC's Annual Streams Cleanup, which is in its 18th year, and still involves many Scouts troops!
In 2005, Kathryn Lenahan from Girl Scout Troop 907 took on an individual project that honored the intent of the park's dedication as a bird sanctuary. A Penncrest High School graduating senior, she earned a Girl Scouts Gold Award for "designing and building a bird blind for people to enjoy birdlife." Sadly the bird blind (a small shelter from which you can observe wildlife) near the Kirk Lane entrance was destroyed several years ago, possibly by a fallen limb. We marked its approximate location on our annotated trail map.
It is a possibility that in the 1930's or 1940's, the Scouts may have planted a number of trees in the park. We have not found confirmation of this, but we know that the Norway Spruce trees that cover much of the western hill were planted, seemingly since 1935, and that Boy Scouts had planted White Pines along nearby Ridley Creek Road around 1932. We would love to learn more about the Norway Spruce planting!
There is one Norway Spruce in the park that we know was planted by Cub Scouts. Sadly, the tree was planted in 1991 in memory of a Cub Scout from Pack 642.
Scouts today
The involvement of Scouts in the park continues. In 2012 and 2013, we attended a meeting in the park with 3rd grade Brownie Troop 5248 to talk about the Scouts' history in the park, and the plants and wildlife – then they helped us with a park cleanup and with plantings around the stage! In 2014, the Minquas District Boy Scouts held a spring cleanup in the park with Media Rotary and Penncrest Interact. And just this month, we participated in a meeting in the park with 6th grade Girl Scout Troop 5037 to talk about the park and environmental stewardship, and about ideas for their Silver Award projects next year.
In honor of all that the Scouts have done in the park through the years, on our September 2011 annotated trail map, we nicknamed the park trail along Kirk Lane the Scouts Loop!
If anyone has more information about, or photos of, Scouts and their projects in the park, please contact us via email (using the Contact Us link) or by leaving a comment on this page.
Sources
Chester Times & Daily Times articles researched on the Newspaper Archives of Delaware County Library:
Chester Times:
Club Leaders See New County Park, November 1, 1935
Rutledge Cub Pack No. 7, September 27, 1939
October Days in Lansdowne, October 14, 1939
Rutledge, May 7, 1949
Eight Brownies Get Their 'Wings', June 10, 1950
18 Girl Scouts Attend Cookout, October 27, 1950
Media Girl Scouts, October 25, 1951
Ridley Park WSCS Plans Luncheon, June 6, 1955
Troop Enjoys Wiener Roast, October 31, 1957
Daily Times:
Girl Scouts Go Camping, April 16, 1960
Leaders of Patrols Selected, October 27, 1964
Boy Scouts help clean up Glen Providence Park area, December 1, 1970
Scouts to collect litter, June 4, 1971
And:
RTM Honors Girl Scout Gold Award Winner, County Press, May 31, 2005