Spring Bird Walk List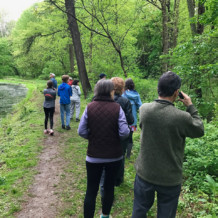 What a great turnout for our Spring Bird Walk in Glen Providence Park this morning – we had 22 people, including 2 kids, and 2 members of the Penncrest High School Envirothon team! We were led by Tom Bush of the Birding Club of Delaware County, who took time to show us what birds to look for before we started, and gave us helpful tips during the walk. While the rain held out, we heard more birds than we saw, reminding us how helpful it is to learn bird songs!
We saw oodles of endearing Catbirds, a Red-eyed Vireo, Baltimore Orioles, and Yellow-rumped Warblers, and heard many birds including the ever-lovely Wood Thrush. Some of us lingered afterwards listening as activity increased – new for me was the buzzy call of the Green-throated Warbler, "trees, trees, murmuring trees."
Thank you to Tom Bush for leading us, to naturalist Tom Reeves for joining us, and to the birders of all ages who came out early on a Saturday morning!
Spring Bird Walk eBird List
May 6, 2017
32 species
2 – Canada Goose
1 – Great Blue Heron
2 – Turkey Vulture
1 – Sharp-shinned Hawk
4 – Mourning Dove
4 – Red-bellied Woodpecker
2 – Downy Woodpecker
1 – Hairy Woodpecker
1 – Northern Flicker
1 – Eastern Phoebe
1 – Great Crested Flycatcher
4 – Red-eyed Vireo
6 – Blue Jay
3 – American Crow
2 – Carolina Chickadee
5 – Tufted Titmouse
4 – House Wren
4 – Carolina Wren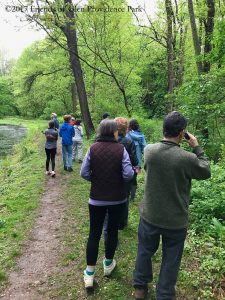 2 – Veery
2 – Wood Thrush
7 – American Robin
16 – Gray Catbird
2 – Northern Parula
1 – Blackpoll Warbler
1 – Black-throated Blue Warbler
5 – Yellow-rumped Warbler
1 – Black-throated Green Warbler
5 – Song Sparrow
2 – Eastern Towhee
3 – Northern Cardinal
1 – Brown-headed Cowbird
3 – Baltimore Oriole