Glen Providence trail posts!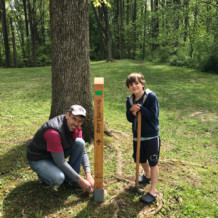 There's something new in the Glen Providence woods… yesterday we installed 14 trail posts! Placed at the beginnings and ends of trails, and at some junctions, they show trail names, distances, and paint blaze colors. The posts were created and installed by Friends of Glen Providence Park volunteers, with the approval of Delaware County Parks & Recreation, and funded by our generous donors!
The trails are the Mountain Laurel Trail, Ice House Trail, Scouts Loop, Switchback, 1941 Trail, Shingle Mill Trail, and a shortcut! You can see them on our historically annotated trail map, which we will update soon to show the trail colors.
Our Board Member Rick Sleutaris did a beautiful job creating these trail posts, which were inspired by those installed by Friends of Ridley Creek State Park and Friends of the Wissahickon. Donations to Friends of Glen Providence Park made made it possible to pay for the supplies for these posts, and for the machine time for Rick to carve the lettering at NextFab.
A tremendous thank you to Rick, our wonderful volunteers who installed them on a Sunday afternoon (including Rick's son!), our donors, and Delaware County Parks & Recreation. We are excited about the visual difference the posts make in the park, and we hope this will encourage park users to explore all of its trails!
Photos of the installation crew and some of the trail posts…
Photos by author. Additional photo by George Tate.