Entrance Kiosks for Glen Providence Park!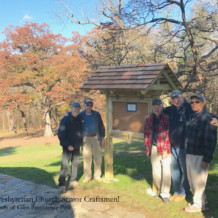 This fall, the all-volunteer Media Presbyterian Church Senior Craftsmen beautifully built kiosks for all three entrances to Glen Providence Park! Kiosks were long on our wish list for the park, and now there is a place to post trail maps, park rules, of course park events, and other information about Glen Providence.
Meeting to work on Thursday mornings, the Craftsmen skillfully constructed the kiosks off-site, then assembled and installed them at Glen Providence Park. Thoughtful touches such as artfully rounded corners and cedar shingles make the kiosks a graceful fit to the park's historical WPA-built entrances. We are incredibly grateful for the Craftsmen's generous work!
What is this park called?
To our knowledge, Glen Providence Park has not had entrance signs since the original elegant 1930's carved-letter signs. Over the past several years, we had met people who use the park regularly but do not know what it is called, and others who don't know about all of its trails, or about the park's events, history, flora or fauna. It became apparent that it would be helpful to have a place to post information about the park, and we got approval from Delaware County Parks & Recreation to build entrance kiosks.
Senior Craftsmen to the rescue
Dale Snead, one of our regular volunteers for invasive plant removal, is also a member of the Media Presbyterian Church Senior Craftsmen: a wonderful volunteer group that meets weekly to work on construction projects for the community and for those in need. Through Dale, the Craftsmen agreed to take on the project, and from there Ben Curtis led the way with his expert design and planning. Craftsmen including Dale, Ben, Joe, (another) Joe, Ted, Dan, Marty, Andy, Bill, Ed, Frank, and Walt worked on the kiosks through part of the summer and fall.
Thanks to the Senior Craftsmen, now there is a place to post information so that people can be aware of all that Glen Providence Park has to offer. We will be adding carved-letter "Glen Providence Park" signs to the kiosks, in addition to holders for park maps. In combination with the trail posts we installed this spring, the kiosks will help encourage people to explore and appreciate more of the Glen!
The kiosks are funded by Friends of Glen Providence Park, and the foundations were installed by Delaware County Parks & Recreation. A tremendous thank you to our donors, to County Parks, and to the fantastic Media Presbyterian Church Senior Craftsmen! Did I mention they're all-volunteer? Here's more about this remarkable group… and be sure to check out the photos below!
The Media Presbyterian Church Senior Craftsmen
From the Media Presbyterian Church website: "The Senior Craftsmen is a group of seasoned carpenters from our church who performs a myriad of home repairs and engage in a variety of construction projects that help to benefit the surrounding community and its residents. They are best known for constructing much-needed wheelchair ramps throughout Media and Chester and their work in churches throughout the city. Most, if not all, of their work is done at no cost. The Senior Craftsmen meet every Thursday. If you are interested in joining these gentlemen, please call the church office at 610.566.3944 x16 and leave a message. The Senior Craftsmen do not do roofing."