4-21-2018 CRC Streams Cleanup!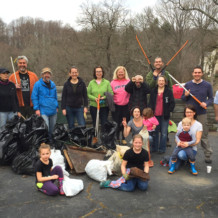 Friends of Glen Providence Park is proud to be helping the Chester-Ridley-Crum Watersheds Association (CRC) with their 21st Annual Streams Cleanup! CRC volunteers will remove trash at more than 30 sites along Chester, Ridley, and Crum Creeks and their tributaries, including Broomall's Run in Glen Providence Park.
21st Annual CRC Streams Cleanup Day
Saturday, April 21
9:00-11:00am
Glen Providence Park
Main entrance, West State Street, Media
The Annual Streams Cleanup is just one of many activities that CRC undertakes to further its mission "To protect, conserve, and restore the natural resources of the Chester, Ridley, and Crum Creek watersheds." This is our seventh year coordinating the CRC Streams Cleanup for Glen Providence Park.
2018 Stream Cleanup information:
** Please register for the cleanup through the CRC website so they can plan for supplies. **
Meet at the Glen Providence Park main entrance on West State Street in Media at 9:00 am.
Rain or shine.
Gloves and bags will be provided.
We recommend long pants and long sleeves to protect against poison ivy and ticks.
If you'd like to tackle trash along the streambank, wear water shoes, boots, or old shoes!
CRC requires that volunteers sign a liability release.
Please note that this year's CRC Volunteer Picnic will not be the day of the Streams Cleanup, but will be scheduled for another day.