Spring Cleaning 2018!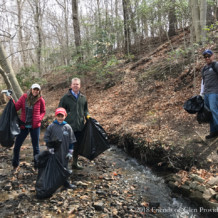 On this beautiful spring day, 26 adults, teens, and kids spent their Saturday morning volunteering in Glen Providence Park at the 21st Annual CRC Streams Cleanup! We walked the trails and stream, clearing 17 bags of trash – and lumber, matting, metal, broken concrete bench ends, and other assorted objects! We appreciated that our Pennsylvania State Representative Christopher Quinn (District 168) joined us again this year. It was a delightful morning and showed once again the great people you meet while volunteering!
Thank you very much to the all of the volunteers, to Seven Stones Cafe for donating the delicious coffee that kept us fueled, and to CRC Watersheds for the supplies and for all of their work organizing the event – removing trash from 34 locations in the Chester, Ridley, and Crum Creek watersheds!
Click on any photo for a closer look!
Photos by George Tate, Marcia Tate, and Stephanie Gaboriault