12-15-2018 Christmas Bird Count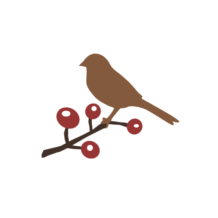 Join Friends of Glen Providence Park in our 8th year participating in the Christmas Bird Count, the world's longest-running Citizen Science survey! In this early-winter bird census, thousands of volunteers across the US, Canada, and many countries go out over a 24-hour period to count birds. Researchers and conservation biologists use the data to study the long-term health and status of bird populations.
119th Annual Christmas Bird Count
Saturday, December 15
8:00-10:00am
Rain, snow, or shine!*
Park entrance at 3rd & West Streets
Slow down for a morning and take a break from the holiday rush!
Logistics
Please note the location

– we will meet at the 3rd & West Street park entrance
*Rain, snow, or shine – but in the event of high winds, we will post on Facebook and our website that morning whether we will meet.
Be prepared for steep hills and rugged, possibly muddy and/or icy terrain
Experienced and novice birdwatchers welcome!
Of course, bring your binoculars and bird guides!
Friends of Glen Providence Park will submit our results to the CBC Compiler for Delaware County. We will also post the results on our website!