Spring Cleaning 2019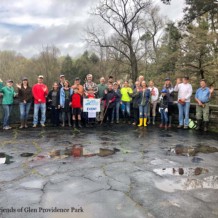 On a mild spring day in mid-April, 29 adults and kids spent their Saturday morning volunteering in Glen Providence Park at the 22nd Annual CRC Streams Cleanup! We walked the trails and stream, clearing over 20 bags of trash and invasives – and a construction roll, pipe, broken deer fencing, tire, broken concrete bench ends, and other assorted objects.
A motivated crew of volunteers took on the cleanup and relocating of debris piles by the pond from several trees that fell in the March 2018 Nor'easters. They did a beautiful job, even clearing the heavy concrete bench that had broken when one of those trees fell on it!
We shared the park with the Media Lions Club, running the 66th Annual Great Media Easter Egg Hunt. It was a delightful morning and showed once again the great people you meet while volunteering!
Thank you very much to the all of the volunteers, to Cafe Isla for donating the delicious coffee that kept us fueled, and to CRC Watersheds for the supplies and for all of their work organizing the event – removing trash from over 30 locations in the Chester, Ridley, and Crum Creek watersheds!
Check out the fantastic volunteers below!
Photos by Holly Hoffmann and Marcia Tate