Spring Bird Walk List 2021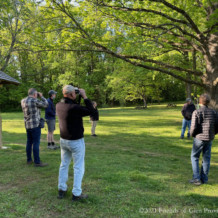 It was a beautiful spring morning on Saturday for our 9th Spring Bird Walk in Glen Providence Park! Alas, we had canceled last year's due to Covid, so we were especially excited to hold the walk again this year. It was the 4th bird walk that Dave Eberly has led for us. Predictably we heard more birds than we saw, but we identified seven warbler species, Baltimore Orioles, a Cooper's Hawk, and we even managed to document a new species for our Park Bird List, the Gray-cheeked Thrush! That brings the number of species documented in Glen Providence Park to 129.
Thank you very much to Dave Eberly for leading yet another bird walk for us, to the wonderful group who attended, and to Carol Carmon for videoing. Watch the video on YouTube for an explanation of bird behavior during migration, what eBird is used for, and a glimpse of some of the birds seen on our walk.
Here is our complete checklist of 37 species for Saturday, May 15, 2021, as entered on eBird:
Mourning Dove – 1
Common Loon – 1
Turkey Vulture – 3
Cooper's Hawk – 1
Red-tailed Hawk – 1
Red-bellied Woodpecker – 4
Downy Woodpecker – 1
Pileated Woodpecker – 1
Northern Flicker – 2
Red-eyed Vireo – 4
Blue Jay – 4
American Crow – 2
Carolina Chickadee – 2
Tufted Titmouse – 4
White-breasted Nuthatch – 1
House Wren – 3
Carolina Wren – 2
Gray Catbird – 15
Gray-cheeked Thrush – 1 – A new species for our Park Bird List!
Wood Thrush – 5
American Robin – 10
American Goldfinch – 4
White-throated Sparrow – 1
Song Sparrow – 3
Baltimore Oriole – 2
Red-winged Blackbird – 2
Brown-headed Cowbird – 1
Common Yellowthroat – 2
American Redstart – 1
Northern Parula – 1
Chestnut-sided Warbler – 1
Black-throated Blue Warbler – 1
Yellow-rumped Warbler – 1
Canada Warbler – 1
Scarlet Tanager – 1
Northern Cardinal – 2
Rose-breasted Grosbeak – 1
5/27: Edited to add YouTube link