Christmas Bird Count 2021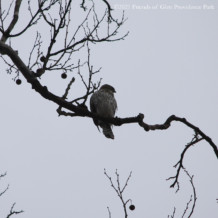 The Saturday before Christmas, eight of us headed out on a very overcast morning in Glen Providence Park for the Christmas Bird Count. The air was damp, making it feel colder than the thermometer's 40 degrees! But the Bird Count never fails to be a literal and figurative breath of fresh air in the midst of the holiday bustle, and we were accompanied by wonderful people. We documented 140 birds of 28 species – second only to last year's wintry count, when we documented 29 species!
Some of our most exciting sightings were a Brown Creeper, Hermit Thrush, Winter Wren, Yellow-bellied Sapsucker, and Sharp-shinned, Cooper's, and Red-shouldered Hawks! Alas, the Great Horned Owl that has been calling many nights around the park did not make an appearance that day, but having heard it just the night before, we were able to include it in our count for the week.
It was the 122nd year for the CBC – the world's longest-running Citizen Science survey! Here is our official Christmas Bird Count list of 28 species for Saturday, December 18, 2021:
Mallard – 10
Mourning Dove – 18
Turkey Vulture – 1
Sharp-shinned Hawk – 1
Cooper's Hawk – 1
Red-shouldered Hawk – 1
Belted Kingfisher – 1
Yellow-bellied Sapsucker – 1
Red-bellied Woodpecker – 5
Downy Woodpecker – 1
Hairy Woodpecker – 1
Northern Flicker – 1
Blue Jay – 5
American Crow – 6
Fish Crow – 5
Carolina Chickadee – 2
Tufted Titmouse – 5
White-breasted Nuthatch – 3
Brown Creeper – 1
Winter Wren – 1
Carolina Wren – 2
Hermit Thrush – 1
American Robin – 46
House Finch – 3
Dark-eyed Junco – 6
White-throated Sparrow – 9
Song Sparrow – 1
Northern Cardinal – 2
It was overcast enough that it was hard to see the birds with binoculars, much less capture their picture, but here are a few photos from the Bird Count and Christmas Bird Count Week…
Carol Carmon's video on YouTube (below) captures the morning beautifully!