2012: Birdwatching Big Year!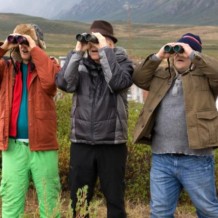 The movie The Big Year, starring Steve Martin, Owen Wilson and Jack Black, is based on a true story about three men"who race across the continent on a Big Year, a whirlwind competition to see who can observe the most species of birds in North America within one calendar year".
Which got us to thinking… let's see how many bird species we can collectively document in the park over the next year! We were delighted to catch the interest of the Birding Club of Delaware County (BCDC): they will help us with our count, and eBird Reviewer and BCDC blogger Albert Guarente even announced our Park Big Year before we did!
We will enter all of the sightings on eBird on the Glen Providence Park Bird List.     Help us out– enter your park sightings on eBird, or email us your sightings at friendsoftheglenATgmail.com and we'll enter them for you!
We will enter all bird sightings throughout the year, not just "new" species for 2012, to create as complete a picture as possible of how birds are using this bird sanctuary. And we'll photograph as many species as we can, of course- you can track our progress in our facebook wildlife album.
Our Park Bird List, the Christmas Bird Count and the Park's Big Year are all part of our efforts to document the park's wildlife and participate in citizen science.
We'll start our Park Big Year on New Year's Day 2012. On January 1, 2013, we'll run a report on eBird and see how we did- until then, track our progress on our 2012 Bird List!