A Wonderful Winter Tree Walk!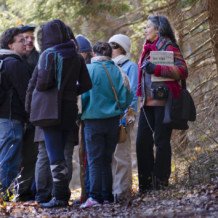 What a fun and informative hike this was! It was well worth braving the bitter cold to take a walk through Glen Providence Park on Sunday with Academy of Natural Sciences Research Associate and University of Pennsylvania lecturer Dr. David Hewitt, along with three of his botanist friends from Philadelphia! This enthusiastic, energetic and incredibly knowledgeable group was a delight to host.
We also had a great group of local people, including Academy of Natural Sciences Research Associate, Walt Cressler, and Friends of Glen Providence Park's native plant specialist, Marcia Tate! We started with an overview of the park's tree history, including comparing 1939 and 1950 photographs of the park's trees with today's view. Then we toured the trails… did I mention it was cold?
Adding to the magic, a Great Blue Heron made a dramatic entrance flying over the pond, and then it perched on a high branch for several minutes before circling the pond again. And the frozen pond was speckled with white– it looked like snowflakes had been frozen in the ice!
Some Glen Providence Park trees we discussed:
– The large White Oak on the sledding hill was already sizable in 1950. David pointed out that the base of the tree is buttressed on all sides, indicating that it has been exposed to the wind on all sides as it grew- so the sledding hill was already a meadow long before the park was established. We would love to determine the age of that oak!
– We mused about why American Beech is so predominant on the Mountain Laurel Trail– oak trees may have been cleared for lumber at some point. Of course we admired the lovely Mountain Laurel grove and the view!
– How do you tell the difference between a Black Cherry and Black Birch in winter? By tasting the twigs, of course! The cherry tastes bitter, and the birch tastes like wintergreen (it was once used in making birch beer soda- yum!). Alas ours was bitter, so it was a Black Cherry.
– We speculated about when the Norway Spruces were planted on the western hill, which we know from T. Chalkley Palmer was "nearly devoid of trees" in 1889, and photos show the western hill was still mostly clear in 1939 and 1950. We know the White Pines along nearby Ridley Creek Road were planted around 1932 by Boy Scouts- could Boy Scouts have planted the Norway Spruces?
And then there was the "after-party": we went to Seven Stones Cafe to warm up and continue the conversation, before returning our new city friends to the train! Needless to say they loved the cafe, and were interested to hear about Media's impressive array of events including 2nd Saturdays, music festivals, and of course Dining Under the Stars! See, you really can take a restorative hike and then hop into town for coffee and entertainment!
This friendly city invasion brought to mind the newspaper articles from the park's early days about Penn professors, families, naturalists from Germantown, even Penn fraternities taking the train and trolley to visit Glen Providence Park. It's also fun to think of the Academy of Natural Sciences connection- former Academy president T. Chalkley Palmer grew up exploring the land, then called Scroggie Valley, and wrote extensively about it in 1889… "As for the valley and its hills as they now are, I have known all their nooks since the beauty, the quietness, and the nameless charm of Scroggie drew my steps through the opening, and by degrees toward the far, blue, woody ending thereof more than twenty years ago." He wrote a few pages specifically about the lovely Mountain Laurel grove.
And looking to the future, David Hewitt plans to return to Glen Providence Park to further study its trees. We look forward to it!
A big thank you to David Hewitt, and everyone who attended our winter tree walk on such a cold day!
Event photos by George Tate.