February Photojournal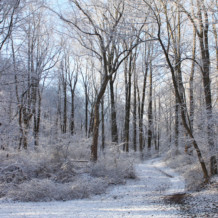 Well, at least we had a little taste of winter in Glen Providence Park!   Just a few days before Valentine's Day, we had this romantic snow… but it didn't last long, and overall it continued to be an unseasonably warm winter.
There were increasing splashes of color with buds on some trees, and early plants such as the intriguing Skunk Cabbage starting to bloom.  By the third week in February, wildlife started emerging from hibernation, with a Groundhog and turtles spotted in the park.
Of course you can find birds in the park year-round, and we had 22 people admiring them on our fun Winter Bird Walk!  February sightings included this pair of Pileated Woodpeckers, magically accompanied by a brief snow flurry.  The Northern Flicker (in the gallery below) has lovely markings, and a distinctive loud wik-wik-wik call.    Learning bird calls definitely helps to identify birds, as they can be mighty evasive!
Not all park activity is easily photographed… February was a busy month for planning for the park's future.  There was enthusiasm for preserving Glen Providence Park at the Delaware County Open Space Plan meeting.  Media Borough's Citizens Advisory Committee held weekly meetings to examine possibilities for the 3rd Street Project.  We started work on two projects with Delaware County: we are investigating attaining the National Historic Register status that the park was determined eligible for in 2002, and we are planning  streamside plantings near the pond to control erosion, beautify the park, and feed wildlife.
In further citizen science efforts, we finished tree mapping the 1.1 acre construction area for the proposed 3rd Street Bridge/Dam, and we published our Park Tree List.
We ended the month with a rainy Leap Day trip to the park with an intrepid Media Providence Friends School science class… it was a bit too cold and wet to take photos!
Click on any photo below for a closer look.  You can view more photos in our Facebook Albums: including Wildlife, Scenery, and History.