9-28-2013 Planting for National Public Lands Day!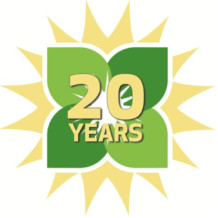 On National Public Lands Day, the Friends of Glen Providence Park will plant native trees and shrubs along Broomall's Run by the pond, to help stabilize the streambank in an area of serious erosion. This project will also create a riparian buffer, improve wildlife habitat, and beautify the park!
National Public Lands Day
Native Tree & Shrub Planting!
Saturday, September 28
rain date Sunday, September 29
9:00-12:00noon
Glen Providence Park – main entrance
We had a lot of fun at our streamside buffer planting for Earth Day in 2012– join us as we take on this next planting project! We are incredibly grateful to the Delaware County Conservation District for approving a Mini-Grant, to Delaware County Parks & Recreation for providing funds for this project, and to CRC Watersheds for contributing deer fencing. We further thank Delaware County's Parks & Recreation and Conservation District for their guidance in selecting and planning this project!
This is the 3rd National Public Lands Day the Friends of Glen Providence Park has participated in, and our 8th public volunteer day, in addition to smaller projects and regular Invasive Plant Removal days. It's the 20th Anniversary of National Public Lands Day- the nation's largest single-day volunteer effort for public lands!
To help us plan our time effectively, and to plan for refreshments, we ask that you RSVP for this event at FriendsoftheGlen [AT] gmail.com- please let us know the number of volunteers in your party.
Volunteering details:
We will update this description as we identify other relevant details for volunteers. Please contact us to register.

Estimated time: 9:00am-12:00pm
Lunch and drinks will be provided for registered volunteers – pizza generously donated by Pinocchio's Pizza!
Activities will include:
– digging holes for the trees and shrubs
– spreading woodchips
– installing deer protection around trees and shrubs
– water bucket line from Broomall's Run (great for kids!)
– sitting back and admiring the new plants!
Items that would be helpful to bring, if you have them:
– gloves
– shovels and spades
– pickaxe
– rake
– wheelbarrow
Of course, we also welcome anyone who wants to participate by picking up trash along the trails and stream!
Rain plan:
Our rain date is Sunday, September 29 at 9:00 am. If the weather is not clear, we will post here and on our facebook wall by 8:45 am Saturday advising whether we will use the rain date.
To add this event to your favorite calendar program (iCal, Outlook, Google, etc.), view the event listing on our calendar.
Thank you, we hope to see you on National Public Lands Day!