6-28-2014 Pond Walk for Kids!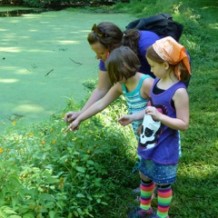 Join us as we explore the plant and animal life at the pond in Glen Providence Park! This is the third year that Aura Lester will lead her fun and popular Pond Walk, and we are delighted to have her back! With a degree in biology, Aura's career experiences include environmental educator in Philadelphia and research assistant in Alaska(!). She is known as Mrs. Lester at Great Valley High School, where she has been teaching biology and environmental science for the past 10 years.
Pond Walk for Kids!
Glen Providence Park, Media
Saturday, June 28, 10:00-11:30am
Meet at main entrance on State Street (starts promptly at 10:05)
Logistics:
There will be a craft for the first 20 registrants – RSVP by emailing FriendsoftheGlen[AT]gmail.com.
Be prepared for uneven (possibly wet) terrain: wear shoes that can get wet, bring binoculars and cameras if you'd like, and of course bring your curiosity!
Free!
While we welcome leashed dogs to many of our park events, this time we will be looking for skittish turtles and other pond life, so please leave those cuties at home.
If the weather is questionable, we will post that morning on Facebook and our website about canceling or rescheduling.