Scavenger Hunt Recap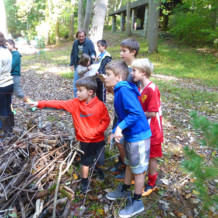 Did you find a painted fairy and a golden knight in Glen Providence Park on Sunday afternoon, October 12? If you were one of nearly sixty sleuths searching for the man-made objects hidden in plain sight amidst the rainbow of fall colored leaves, you may have found a LEGO alligator too.
After a preview of the program, Teacher Holly and Master Naturalist Chris lead the first wave of participants gathered at the park entrance, down the hill to the hunt site near the pavilion. Rescheduling this event to the rain date, due to an all day downpour on Saturday, didn't dampen the spirits of the intrepid explorers in pursuit of manufactured objects on the Scavenger Hunt list. With pencils poised on clipboards in hand, it was obvious that both children and adults were serious about having fun.
It took a keen eagle eye and some patience, to unearth all thirty things on the checklist cleverly camouflaged among the natural elements on the woodland floor. Finding a thumbtack – item #29, in this environment was like finding a needle in a… well, you get the picture.
Some of the more adventurous detectives set off to root around for a twig shaped like the letter Y, a wild bird feather (a rare find in this habitat of dense vegetation) or something that makes noise. From the first object to look for or collect on the Nature Scavenger Hunt – find and identify a tree that's shorter than you are, to the last – a big smile, there was something for everyone to discover at this fun, family event. Participants shared warm apple cider and lively conversation at the end of their search.
Many thanks for the engaging and enlightening program provided by event leaders Pennsylvania Master Naturalist Chris McNichol and Media Providence Friends School science teacher Holly Hoffmann at this second annual Scavenger Hunt. They are already planning some new and exciting activities for next year!
Check out photos of the fun below – click on any for a closer look!