Fall 2014 Photojournal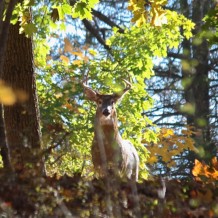 On this first day of fall, a look back to last year's autumn beauty in Glen Providence Park! I spent some lovely and serene fall mornings along the trails and at the pond, encountering wildlife and interesting plants. Foliage seems to be starting slightly later each year – it had barely begun changing in early October, and did not peak until the end of the month. Early dustings of snow hinted at the upcoming snowy winter – on November 13, and again on Thanksgiving day!
Some wildlife encounters are more eventful than others… One early November hike took an exciting turn when we came across two White-tailed bucks scuffling over a doe! A few times it seemed they might charge at us. We were startled one morning during our weekly Invasives Removal to come face-to-face with an Eastern Garter Snake in a tree we were liberating from invasive vines. I saw my first Black Squirrel, which I had heard about living in Media, but had never seen. As a melanistic variety of the Eastern Gray Squirrel, individual Black Squirrels can exist wherever Gray Squirrels live.
I always watch for birds, which we continue to document on eBird for our Park Bird List. The park was frequented for a few weeks by a flock of up to 100 Common Grackles – they can be noisy, making odd sounds like rusty gates and like clucking – and they are entertaining to watch! Mallards returned to the pond with their occasional antics, with Winter Wren and Cooper's Hawk being other birds I managed to photograph… you can view park sightings on eBird for the fall migration months of August through November to see what to expect in the fall!
With all the beautiful foliage, it can be hard to remember to look down, but don't miss what is on the forest floor! In the past several years I have seen some amazingly varied fungi in the park – I would like to learn much more about them. Clubmosses, Lycopodiopsida, are primitive plants that reproduce through spores. According to wikipedia, the spores were used in Victorian theater to produce flame-effects(!), burning rapidly and brightly, with little heat.
Our monthly events last fall were our fun and rewarding annual planting day for National Public Lands Day in September, an engaging Scavenger Hunt for Kids in October, and a wonderful Geology Walk in November.
You can click on any photo below for a closer look, or scroll through them all! There are more pictures in our facebook albums. You can compare our 2014 autumn to other years in my photojournals for September, October and November 2011, and from Fall 2012 and Fall 2013.
Photos by author.