Winter 2014-2015 Photojournal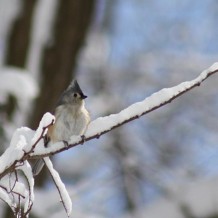 With one month left of winter, a look at last year's long-lasting cold and snowy winter in Glen Providence Park! Snow started early with a dusting at Thanksgiving, and it snowed 5″ on March 20, the spring equinox! It had already snowed 10.5″ early in March, triple-snowdating our Early Spring Cleanup – there was still snow on the ground on March 22, so we removed invasive vines.
The glen is just magical with a coating of snow – and so peaceful on cold morning walks! It's a quiet thrill to walk the trails in the snow with no footprints before you. Of course on school snow days the sledding hill is bustling, with activity mounting  through the afternoon! We don't stop working in the winter – when the temperature rises above 35 degrees on Friday mornings, we work on removing invasive plants along the trails.
Despite the cold, there was no shortage of birds to observe – it is always amazing to see how wildlife endures the harsh temperatures. There were Mourning Doves bracing against a windchill of 9 degrees, and Red-tail and Cooper's Hawks in the snow. A pair of endearing Eastern Bluebirds visited in February, a Brown Creeper made an appearance at our Bird Walk, and year-round park residents Red-bellied Woodpecker, Tufted Titmouse, and many others brightened the winter woods.
Undeterred by the snow and cold, our monthly events last winter were our 4th Christmas Bird Count in December, a Bird Walk in January, and an especially cold 80th Anniversary History & Nature Walk in February.
You can click on any photo below for a closer look, and there are more pictures in our facebook albums. You can compare our 2014-2015 winter to other years in my photojournals starting in 2011.