2-11-2017 Winter Naturalist Walk & Talk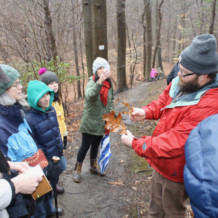 Join us for a winter walk in Glen Providence Park with Naturalist Chris McNichol, as he shows us the park through his eyes. Animal tracks, early-blooming plants, wildlife… who knows what we will find! Chris is a wealth of information on many topics – he teaches boat building, survival skills, rocketry, woodworking, fire starting, foraging, and mechanics at Open Connections, a local homeschool resource center. You can see photos from the wonderful winter walk he led for us in February 2013.
Naturalist Walk & Talk
Saturday, February 11, 10:00-12:00 noon
Main entrance on State Street, Media
Rain, snow, or shine!
Logistics:
Free!
As always, kids are welcome!
Estimated time: 2 hours
Be prepared for steep hills, and uneven (possibly wet or snowy) terrain: wear your hiking shoes, and bring a hiking pole if you use one… and of course binoculars!
To add this event to your favorite calendar program (iCal, Outlook, Google, etc.), view the event listing on our calendar.