10-13-2018 Falling for Fungi!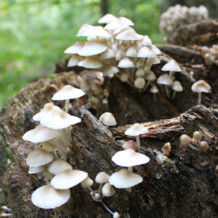 Join certified arborist Mike Rolli for a walk through the autumn woods in Glen Providence Park! Those who attended Mike's previous walks know the remarkable depth and breadth of his knowledge of our local trees and plants, and the fascinating details he shares. He has worked on an extensive botanical survey of the species to be found in the glen. This time he'll be focusing on fungi, and other Fall finds!
Falling for Fungi
Saturday, October 13
10:00-12:00am
Main entrance, 550 West State Street, Media
UPDATE: the walk will be on Saturday, rain or shine!*
Logistics:
Free!
Meet at main entrance on West State Street, Media
As always, kids are welcome!
Estimated time: 2 hours
Be prepared for steep hills, and uneven (possibly wet) terrain: wear your hiking shoes, and bring a hiking pole if you use one.
Binoculars and nature guides encouraged.

* Updated on Friday, October 12: The forecast calls for some rain overnight, but it should stop by 10:00am, and Mike will lead the walk on Saturday – rain or shine!